Century-old French colonial building in Saigon stands to be demolished
The suggestion that the building should be pulled down to give way to the construction of a municipal administrative complex is contentious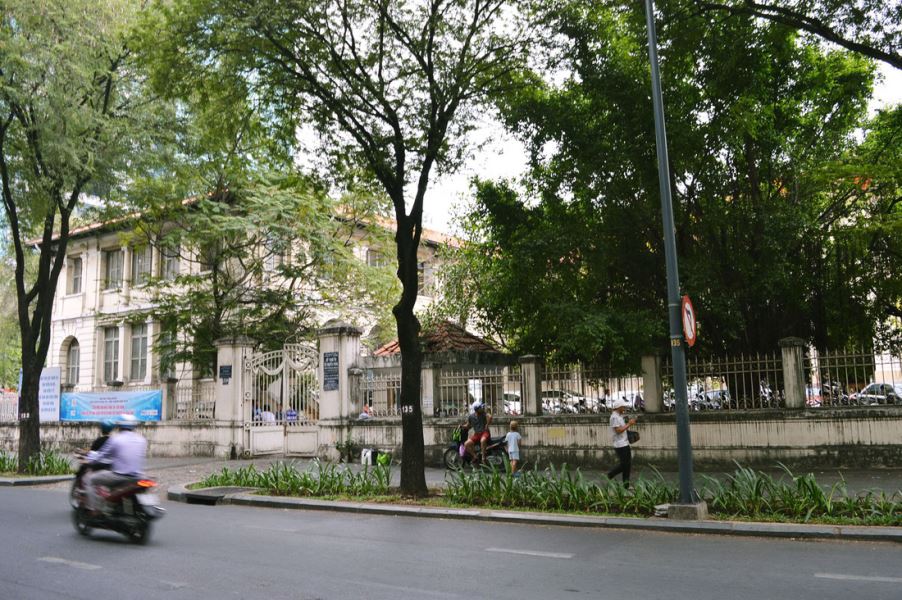 The Thuong Tho Palace is seen in Ho Chi Minh City. Photo: Tuoi Tre
A building erected in Saigon over a century ago during the French colonial epoch is likely to be brought down as a new urban administrative complex is slated to appear on its land, causing a widespread divergence of opinions.

The structure, known as Thuong Tho Palace among locals of previous generations, may be torn down as part of a plan to expand the downtown office building which houses the Ho Chi Minh City People's Committee and the Ho Chi Minh City People's Council.

Currently home to the municipal Department of Information and Communications and the Department of Industry and Trade at 59-61 Ly Tu Trong Street in the metropolis, the palace is deemed the second oldest construction in Saigon, following the chapel managed by the Ho Chi Minh City Archdiocese, originally built in 1870 for French Catholic priest Pierre Joseph Georges Pigneau.

In the 1860s the French put up Thuong Tho Palace, which was at the time only second to what is known as Independence Palace in importance, later utilized as offices by the colonial and former South Vietnam administrations before 1975.

The U-shaped palace, forming a backdrop in the 2002 movie of The Quiet American, still retains its design and iron gates.
The Thuong Tho Palace is seen in Ho Chi Minh City. Photo: Tuoi Tre
Ho Chi Minh City authorities canvassed its dwellers for their views of the structure's demolition, with many supporting its conservation.

"I suggest maintaining the building so that the city will still convey the soul of our ancestors," said Nguyen Duc Anh, a local man.

But the administration thinks differently.
"The government has made a deliberation over the issue. The construction is absent on the relic check list created by the culture and sports department. If something is present on the list, even though yet to be checked, it'll be considered as a relic," said Nguyen Thanh Nha, director of the city's Department of Planning and Architecture.

"But the construction isn't on the list, that's why it doesn't qualify for conservation," Nha continued, without elaborating why the list is not subject to modification.

He proposed that the palace be passed down to posterity by retaining some of its architectural features or making a model of it, a solution he supposed the world is adopting.
Despite the impressive appearance, the structure is very old inside, with multiple leaks in the roof, according to Vo Van Hoan, spokesman of the municipal People's Committee.

Another official said that the palace is in a condition so poor that it cannot be relocated without incurring damage.

Martin Rama, the Chief Economist for the South Asia region of the World Bank, told Tuoi Tre(Youth) newspaper that more factors need weighing in addition to a mere list.
If the decision of knocking down something is grounded on whether it is categorized as a relic, nearly every of the city's distinctive features will be liable to destruction and substitution, including tumbledown French colonial buildings, which are the charms of Hanoi and Saigon, he said.


TTO News

Leave a Reply
Fan Page2
Tags