Discover one of newly-opened restaurants with most beautiful view overlooking West Lake
A spacious restaurant with modern and cozy architecture, its view is overlooking the beautiful West Lake and many home taste dishes, Al Fresco's 62 Xuan Dieu Street, Hanoi is worthy dining address for you, friends and your relatives to check- in regularly.
As the newest member of the AFG group which has been in Vietnam for more than 20 years, the Al Fresco's Xuan Dieu with beautiful front view of West Lake, backyard garden with waterfall, green color of trees, brings guests peaceful and relaxed feeling while enjoying foods here.

The area of this 2-storey restaurant is 460m2, able to accomodate 180 seats. If you organize a cocktail party, the capacity is up to 250 guests.

There is nothing more interesting than every morning, passing by the restaurant to have a breakfast, enjoy a cup of coffee in a scenic lakeside to start a new day full of energy or gathering to enjoy home taste dishes in the restaurant, watching the vibrant capital city by the lake at night.

Or enjoy a dining out with your children with special menu for kids plus a large playing area for them. So, you can enjoy your dinner and relax knowing your kids are fed and playing safely.

Among extensive menu of mouth-watering dishes, the amous Slow Roast Ribs have been enjoyed for more than 20 years and are still a huge favorite!

… and famous tender juicy beef steak imported from Australia.

… … More than 12 kinds of cheesy pizzas made everyday with crispy crust, various toppings comprising seafood, beef, chicken, ham, many kinds of pasta dishes plus tasty Mexican offerings as well.

The restaurant often offers many promotions and activities for guests to enjoy such as - buy 1 get 1 burger everyday, buy 1 get 1 free pizza on Tuesday, Wednesday steak day, Friday buy 1 get 1 cocktail, Roast Sunday, live music on Saturday night and especially wooden fired pizzas at the weekends after 5pm till late. These promotions are unique to the New Al Fresco's Xuan Dieu… we look forward to meeting you there soon!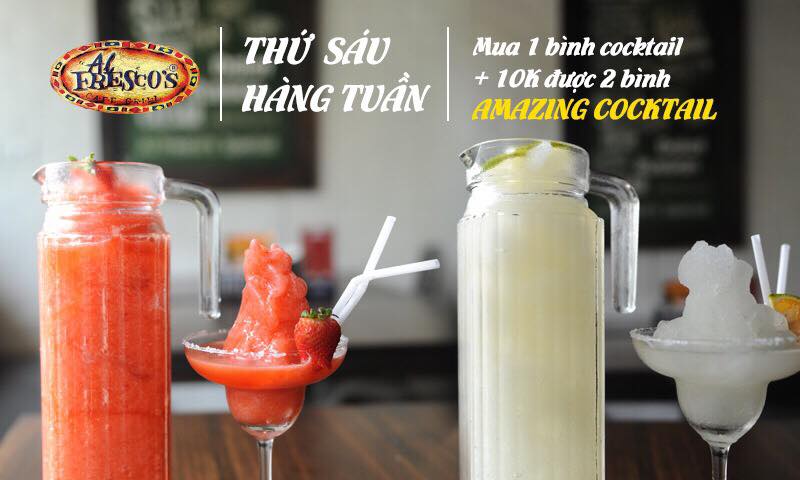 Thus, Al Fresco's 62 Xuan Dieu is a great venue to be for dining with loved one and family members, gathering with friends, or simply stopping by to enjoy your favorites in the beautiful lakeside view after hard working hours.
For bookings or enquiries, please contact Al Fresco's, 62 Xuân Diệu, Tây Hồ, Hà Nội
Tel: 04 3719 5322. Click here for menu reference:
http://bit.ly/alhnorder
Or contact restaurant manager directly: 0914 4378682
Open everyday from 8:30am to 11pm from Monday to Friday, Saturday and Sunday open till late 12 midnight.
Al Fresco's
Leave a Reply
Fan Page2
Tags