EON 51: Enjoy the celebration holiday on the top of the city
Do you have any plans for the coming 30.4-1.5 holiday? That you'd like to have a journey to experience new things but are afraid of overloaded tourist attractions is what you are concerning now?
So, why don't you try a totally different experience in your Ho Chi Minh city. With the highest restaurant – café- bar locating on 3 consecutive levels 50-51-52 of Bitexco Financial Tower in Ho Chi Minh city. EON 51 is an ideal place for anyone who likes admiring spectacular views of fireworks from the height of 200m above the sea level and enjoying delicious dishes with live music performances.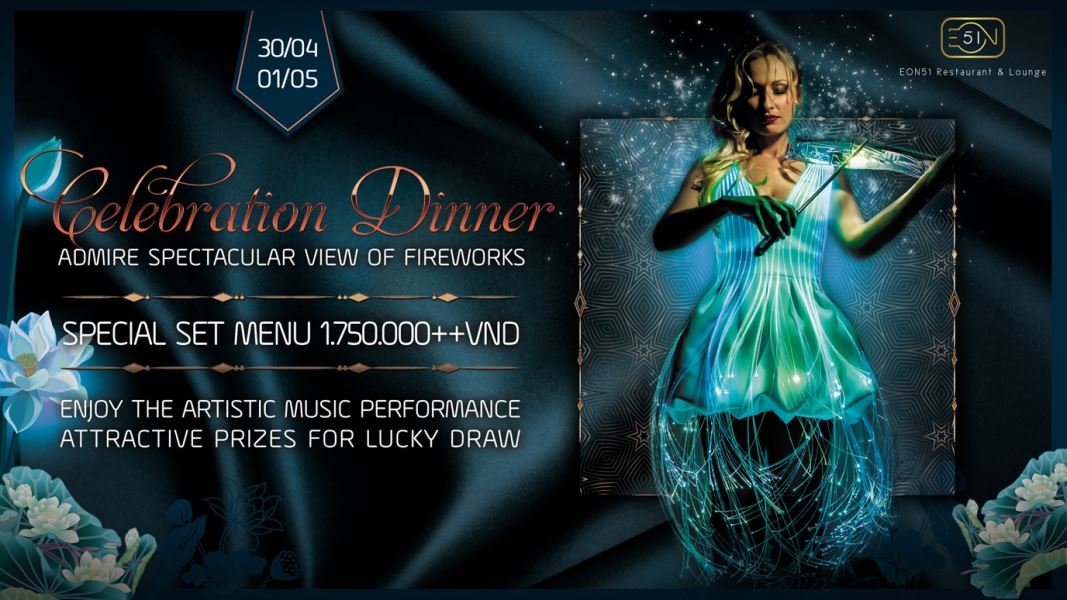 Amazing view of fireworks taken from EON51

"Feel The Light" with the message of "Shine like the stars tonight" is the main theme of Café EON – level 50 in this holiday which will bring you and your family a wonderfully colorful night. With special Vietnamese set menu costing from 990,000 ++ VND / pax, Cafe EON will not disappoint any guest. Moreover, customers can get the chance to win attractive prizes for lucky draw game from Café EON.


Event Information of EON51 Restaurant & Lounge

EON51 Restaurant & Lounge is getting more twinkle and stunning when the fireworks reflect into the restaurant's windows. Therefore, EON51 Restaurant & Lounge is the top destination for anyone who likes celebrating holidays in a romantic fine dining environment with beloved lovers.


Professional classical music performances

A special set menu is prepared by our dediacted chef starts from 1.750.000++ VND/pax. Customers will be served 5 dishes in which the main course, Wagyu shinshank slow-cooked with green beans covered by unique sauce, will surprise you for sure. In additions, salmon & seafood stewed in EON51 style with asparagus and vegetables will balance your taste.


Event information of EON Heli Bar

Have you ever got the feeling of flying and then falling in your excitement and emotion? If not, EON Heli Bar can make it happen by creating a night full of sublimation of EDM music, wild dance with vivid LED light effects.


Customers are having a great fun at EON Heli Bar

With the theme "The Fallen Night", EON Heli Bar is the ideal place gathering all of trendy boys and girls, which helps you forget the troubles of daily life to start a new game. Besides, Minigames are conducted, thus, you can get chances to win valuable prizes and have more fun with us. In additions, you will enjoy the special cocktail of Heli with only 260.000++ VND and other beautiful gifts that Heli offers to everyone participating in the event with Heli.


Leave a Reply
Fan Page2
Tags